Live, flexible, online hubs.
Share content, livestreams, videos and more.
Simple to use. Perfect for groups, communities, and events.
Let's break it down…
Create a hub
Vito hubs are mini websites that can be created in a flash, and are super-fast to use.
Add your people
Invite-only, imported or open registration…
you choose.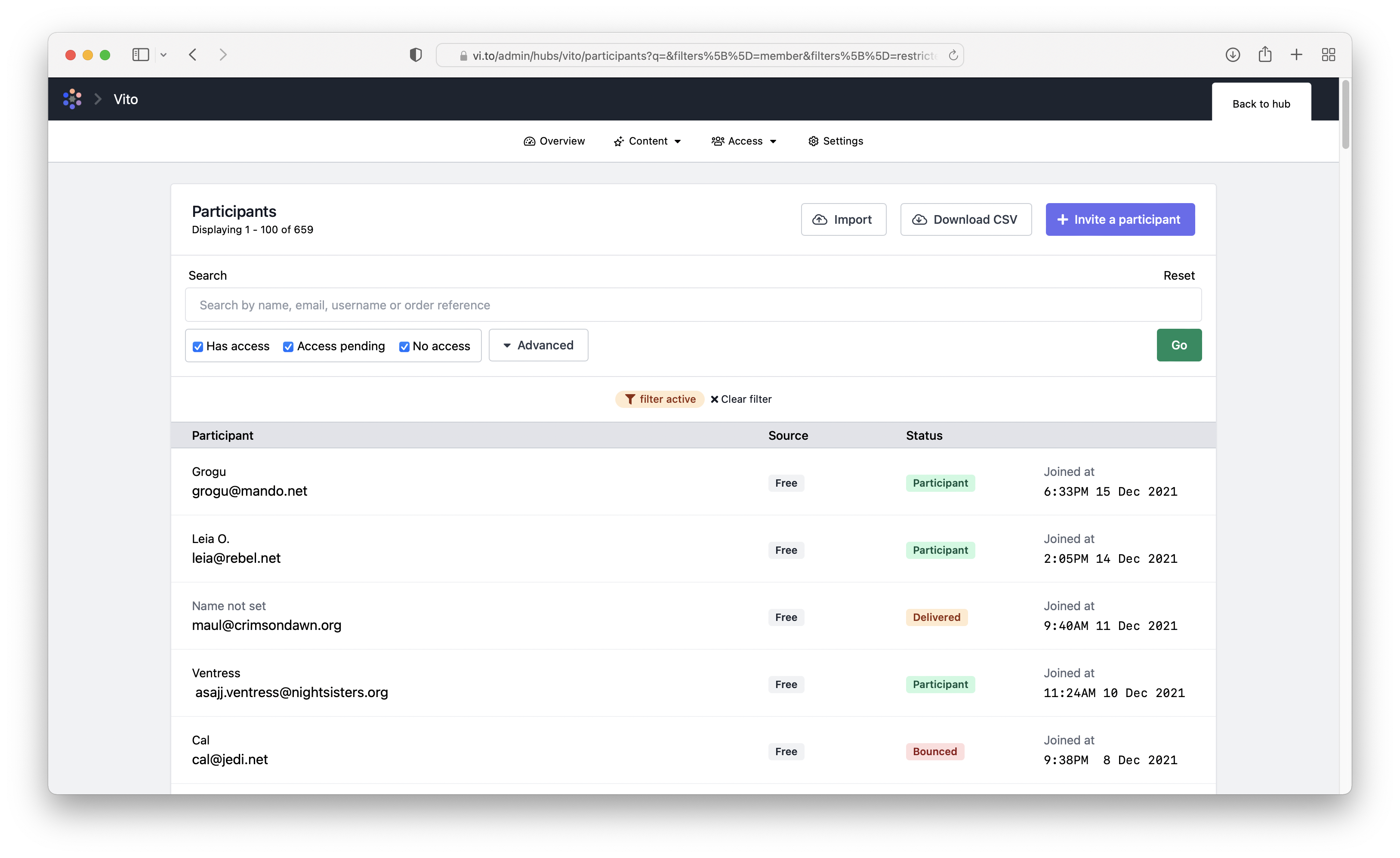 Add some content. Live.
Vito hubs update instantly without needing to refresh the page. Very Web 2.0.
Private, public or both
You can choose what content (if anything) to show to visitors and what to keep private for your hub members.
Pages
Create your own mini-sites with content-rich pages, sections and external links.
Community discussion
Discuss, chat, reply and let your community grow. Members who choose to be visible can post to any discussion page or thread.
Video: your way
Stream with Zoom, OBS, or any other streaming software. You can also upload on-demand videos and build your own library of content, complemented with text and links.
Events
Schedule events with timed sessions and attach info cards that can be reused throughout the hub.
Fast, friendly and secure.
Delightful to use. Safety built in.
You're in good company
Vito is trusted by exciting organizations large and small, worldwide.
Create an account
Principles
Vito makes it easy to share your content, control access, and facilitate your community. We're building with those key pillars, and as we build we're aiming to weave in the common strands of privacy & security, accessibility and eCommerce.
Vito is developed by Team Tito Limited. Team Tito's values are Integrity, Excellence and Delight. Apart from their broad definitions, integrity for us is minimising the potential for harm caused by what we build, excellence is ensuring we build intentionally and that what we build matches those intentions and delight is providing value where it isn't expected.
We're committed to our principles and we want our products to be a force for good in the world.